Weddings
An idyllic venue for Weddings, Chateau Vermont offers exclusivity, intimacy, and a high level of flexibility, allowing you to shape your special day exactly how you would wish.  The different areas of the property can be used in a variety of different ways, giving you the choice of sizes and styles of rooms for the ceremony, reception, dining, and party.
The property has three different spaces approved by the Superintendant Registrar for the purpose of Civil Ceremonies:
Vermont Chapel – Our beautiful granite Chapel nestled within the grounds, seating up to eighty (pictured)
Grande Salle – Seats up to eighty with flexible layout
Vermont Hall – Seats up to one hundred with flexible layout
For the Wedding Breakfast the indoor facilities offer a number of different options depending on the number of guests attending. Pictured here is the Grande Salle laid for seventy guests: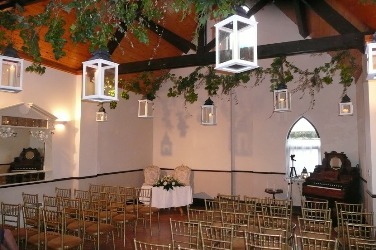 Depending on which area is used for dining, one of the other large rooms can be set up ready for the evening party.  Pictured here is Vermont Hall laid out for a live band and DJ: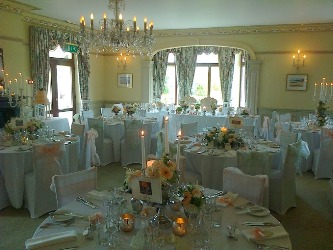 Your choice of caterer and other services will mean that you are free to shape your special day exactly how you wish.  Your caterer will need to provide the relevant food and alcohol licences.  We are able to assist with the planning as much as needed, and we can accommodate numerous on-site visits to help with your arrangements leading up to the special day.